Now we provide lots of shape dividers in section element. It makes your site more beautiful. Please purchase Porto without hesitation.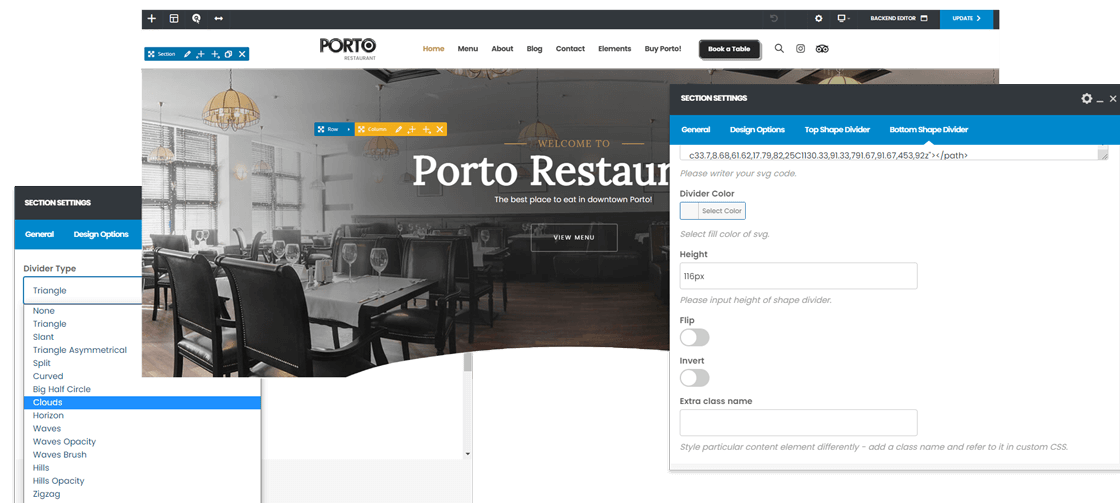 Fashion Way To Decorate Site
Porto now has 16+ different ways for you to separate section and rows of content your website, so there's one for every occasion or style. Our Shape Dividers have been designed to give you the ultimate in page division flexibility, and help you to make your website graceful, logical, and beautiful… Please choose our wonderful theme.
This element gives you style options and content options that are unique and will stand out from the rest of the site. Please try! Each option works smoothly, perfectly and well.
Shape Divider Options
Divider Type – Choose a shape divider which you like. If you don't like any dividers, select 'custom' option. In here you can set divider you want.

Custom Shape Divider – Please input custom svg or upload in elementor.

Divider Color – Fill the color of shape divider.

Height – Height of shape divider.

Flip – Invert y-axis.

Invert – Invert x-axis.

Extra class name – Add extra class to shape divider without any dots. e.g: my-class